The ACL injury to Magic forward Jonathan Isaac is devastating news to the organization. Isaac's injury/rehab could have him miss all of the 2020-21 season. The impact of this latest setback for the third year player may be felt for years.
Isaac is the one player you felt could become an all-star and be the guy who potential free agents looked as someone they would want to pair up with. In a league that is about stars, Orlando needed Isaac to continue his path towards elite level in their attempt to get out of the worst place in the NBA...the middle of the pack.
While Nikola Vucevic and Aaron Gordon are nice players, they are players you have around better players to help your team- not build around them. Markelle Fultz is still answering questions about his health and still needs to prove he can consistently shoot before anyone can view him as a potential star. 
But the loss of Isaac for the rest of the NBA restart is a huge blow to Orlando's playoff hopes of causing noise. Yes, the team has played great in its first two games back, but Isaac's play in a potential first round matchup against Toronto will be missed, especially on the defensive end.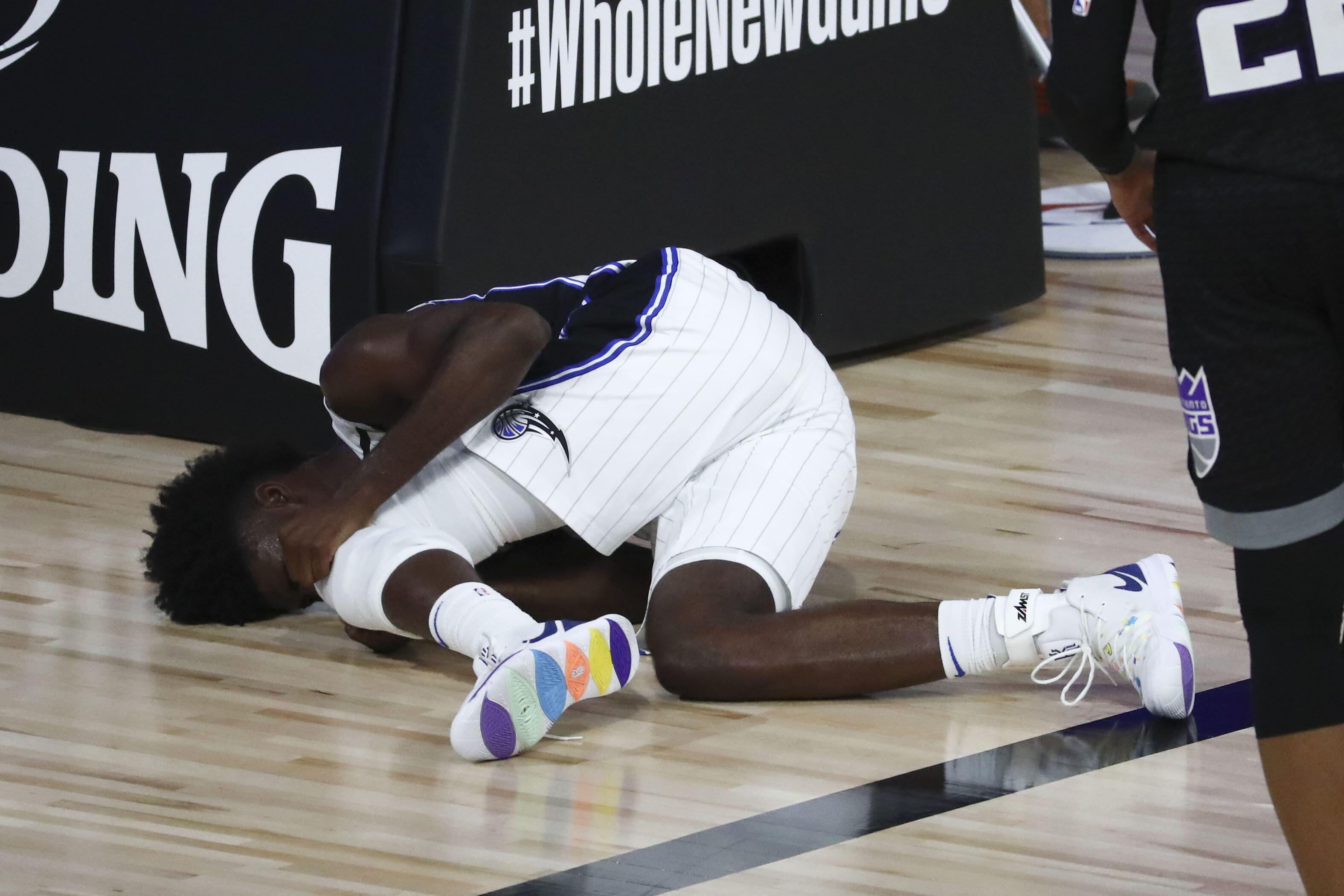 Now the question is what about his future. Isaac played in just 27 games in his rookie season and appeared in 34 of 67 games this season and was only able to return because of the NBA's three-plus month layoff off because of the virus. He is eligible for a contract extension this offseason.The team's qualifying offer would be $9.8 million if he does not get the extension and would be eligible to be a restricted free agent in the summer of 2021. But all parties anticipated a healthy Isaac heading into next year and likely he would have a new deal and locked in as the face of the franchise.
No one questions the development of Isaac but now the big question is about his health and can the team really commit to a long term deal after this latest injury? 
This off-season may have been the time for the front office to decide to stay with the current group that still will finish a regular season as no better than a seventh seed. And is it time to make a deal and move an Aaron Gordon or Vucevic and take a gamble? It becomes harder now because Isaac is likely out for the next season.
Grant Hill's health set the franchise back for years and that salary was an anchor that made it difficult to make moves. Isaac's latest setback has a similar feeling and makes you wonder what the team does because an injured player doesn't help you win games. The NBA has always been about stars. Isaac's injury has the feeling of a falling star you may not see again...or at least any time soon.
Quick notes: I wonder what the former Chris Jackson thinks these days. Jackson, who changed his name to Mahmoud Abdul-Rauf, has to watch and wonder when he sees our coverage of the National Anthem in the NBA and all sporting events and the media scoreboard of who stands and who kneels. In 1996, he was fined by the NBA over $31,000 per game for refusing to stand during the National Anthem. Abdul-Rauf believed the flag was a symbol of oppression and racism. He would actually reach an agreement with the league that he would stand for the anthem but be able to look down and close his eyes and pray. Yes, that was the deal he struck with the league. After the 1996 season Denver traded him to Sacramento, where his playing time dropped and two years later he was out of the league...
Stop blaming Rob Manfred for MLB players who choose to go to places they should not be going out to...Aaron Judge is good. Red Sox pitching is not...Golf's first major is this week, in August. The PGA Championship is in San Francisco...Tell me again why any breakaway from P5 conferences would include Vanderbilt, Rutgers, Kansas and Washington State and others currently in some of those leagues? Many members of major leagues bring nothing to table as it relates to TV value. And for crying out loud, for the knuckleheads screaming that the P5 should break away. Everything- and I mean everything- you are screaming about what they should leave the NCAA is everything- and I mean everything- those same commissioners, ADs and school presidents have been fighting against. NIL, better insurance, player compensation etc.........
Commissioners of the P5 have fought against those for years. And now you think they will be for it. And remember, MARK EMMERT DOESN'T MAKE POLICY. MEMBER SCHOOLS DO. Any system you want, you can create in the current NCAA...Who doesn't like pistachio nuts?
Photo Credit: Getty Images