As the college football world scrambles to find a way to play a season, some have suggested looking at Spring 2021 as an option. As far back as early April I threw out the idea about playing a March to May season if it would allow a better business model that would have fans, in some form, and a season that might not have interruptions. All schools and conferences need to be flexible and keep all options on the table. 
The Athletic's Bruce Feldman wrote a column worth your time in which he suggest that it might be something for Group of 5 and FCS teams to consider a spring season because it could mean more media money and exposure to play away from the Power 5 teams. I have great respect for Bruce and you should read his thoughts. I do not think the idea works for a variety of reasons. For starters, I do not think there is more media money for G5 schools in the spring and for some schools(UCF, CIncinnati, Memphis, Boise State and more) the business model does not work for a variety of reasons. 
Part of this suggestion is that P5s would then play all their non-conference games against each other and fans would love that. Maybe. But this model does not work for the financial structure of college football.
The biggest reason P5s play non-conference games against G5s and FCS schools is money. Yes, it's about money. And wins. 
For schools that make money every home game they play, they like as many home games as possible. Take a look around the country and look at the majority of P5 brands that have real value. They typically play 7 home games and check on Auburn who has built a business model that in some seasons has 8 home games.
If your dream is only P5s vs P5s it is harder to get 7 home games. After all, which P5 school agrees to a 2-for-1 at your place? 
Sure, we have seen a recent move by some big P5 brands to schedule real home and home series with each other. That's great and a lot of these newly announced deals are still 5-10 years away.
But it's about wins and money. The model most schools have shifted to in scheduling non-conference games is maybe one real challenging opponent and either 2 or 3 games against G5 or FCS schools(depending on whether they play 8 or 9 league games) and almost all of those games are at home. 
If you had a system where only P5s play P5s, there are just so many games that Vanderbilt and Kansas can play. After you try to schedule as many winnable games then what do you do?
As much as fans love the idea of a schedule featuring what appears to be 6-8 great games, you hate that schedule when your team is 3-5 and out of the conference title race and likely not headed to a bowl.
Today, all mid and lower level P5s are looking for wins. Scheduling only P5s for non-league games means more 3-9 and 4-8 seasons and that gets you fired in 2-3 years. The current goal is to grab a few league wins and win 3 non-conference games and make a bowl and get a raise.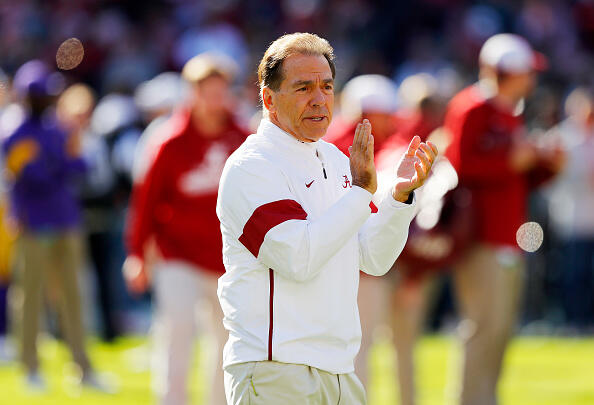 But back to scheduling. Anyone take a look at Alabama's non-conference slate? The Tide have 9 games scheduled against G5 or FCS schools in the next three years. Nick Saban has said he prefers to play only against P5 teams outside of the SEC. Nick has been there a few years and if it really mattered he could have changed the scheduling model. 
The Tide are smart. They play their SEC slate which will always feature marquee games and then also play a neutral site game to start the year. In the end, it's about 7 home games for Alabama. The football season impact on the economy in Tuscaloosa is said to be worth about $200 million.
So Alabama has home games against:
2020- Georgia State, Kent State and UT-Martin(likely all three won't be played)
2021-Southern Miss, New Mexico State and Mercer
2022- Utah State, Louisiana Monroe and Austin Peay
You can say Alabama doesn't have to schedule up because of their SEC grind and I may not argue, but the point is it's about money. Home games mean money. If it was P5 vs P5 only, Alabama likely is not getting the same number of home games.
Michigan has the following non-conference games scheduled:
2020- Ball State and Arkansas State(will not be played) and Washington(maybe rescheduled for future years)
2021- Western Michigan and Northern Illinois
2022- Colorado State, Hawaii and UCONN
You can do this all day. Just search the future non-conference schedules for some of the biggest brands in college football. There is a common trend. More home games and more G5 and FCS opponents.
This is not going to change any time soon. Now, more than ever, these schools will need more home games because it's about money. Yes, attendance is challenging in college football and getting fans to the stadium is a problem for every program. But you can't just think the answer is scheduling up. It doesn't work.
If a major P5 brand goes 12-0 with 3 wins over G5 or FCS teams and also has 3 wins over ranked teams, it is making the playoff. If the same team plays 4 non-conference games against top P5 opponents and finishes the year 8-4, they are headed to a bowl game no fan base cares about.
There is a reason 12-4 and 11-5 is a successful season in the NFL. Because it's hard to play good teams every week. And there is a reason you don't see 15-1 teams every year. Because there are no FCS opponents.
So before anyone thinks the business of scheduling non-conference games is changing, it's not. And that is the biggest reason the model of a spring season for G5 and FCS only likely doesn't work.